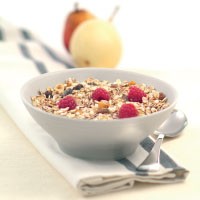 Today's consumer preferences for natural (clean label), low calorie, low salt products with additional functional benefits are driving the development of new ingredients for breakfast cereals and cereal bars. And, of course, in addition to being healthy, these products need to taste great too!
Whey protein has been added to sports nutrition bars for several years. The next generation of products will see whey protein added in moderate quantities to mainstream cereal bars and snacks, particularly targeting those groups such as teenagers and the growing numbers of consumers who do not regularly consume protein from other sources, such as meat and pulses.
Time-starved consumers continue to seek the 'quick nutrition-fix', whether for themselves or their families. With cereal bars and snacks proving ever popular with children and teenagers, brands fortified with whey protein can make a valuable contribution to a nutritionally balanced diet. In particular, they provide a high quality source of protein and calcium in a convenient format.
Volactive ProCrisp is a new form of whey protein specially developed to combine a nutritional protein boost for snack bars with a lighter, crisper and crunchier texture.