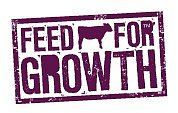 Volac has created the Feed for Growth programme to allow farmers to forecast, plan and execute on farm pre-weaning protocols more efficiently and with greater benefit than ever before!
Time invested at this early stage allows the farmer to 'Grow better cows' which means:
Better milk yield
Better fertility
Better longevity

We believe that this programme alongside our innovative products can make significant differences to the sustainability of a dairy enterprise.

Grow better cows
The first 3 months are fundamental when determining a new-born calf's adult performance – a critical point which is all too often overlooked.

Birth to weaning initiative
The FFG programme is a birth to weaning initiative which is built around a range of materials, both educational and practical, to enable you to plan and execute on-farm rearing protocols more efficiently and with greater benefit than ever before.

Twenty percent of the annual costs involved in running a dairy herd is associated with rearing heifer replacements, second only to feed.

Rearing dairy heifers that are well-equipped to join the herd at first calving is the aim of every dairy producer. Such animals should then be able to fulfill their genetic potential by leading a long and productive life. However, far too many replacements are not of the quality required to fulfill these goals, and are causing long-term financial losses on farms.

The pre-weaned animal is a fundamental phase of development, and drives the future success of the farm. Have a look at the heifer roadmap to see the potential impact of growing better cows.
So, what's on offer?
Informative website
www.feedforgrowth.com is the hub of all our online activity! Here you can find further information around the Feed for Growth programme and its benefits. There is also a video to help explain this.

Downloadable resources
We've learnt a lot over the last 40 years in animal nutrition and we want to share it with our customers, so we have put loads of great resources, all in one place! Below are just a few of the Farmers Guides available. Visit our website to see the full range and to download.

Informative blog
Our Feed For Growth blog is the place to be for all things calf rearing! New blog articles and videos are posted weekly.

Social media
Customers can benefit from daily useful posts including; top tips, 'Ask the vet' and 'How to' videos, downloadable resources, competitions and more!

e-Newsletter
Customers also have the opportunity to sign up to receive our regular e-newsletter updates straight to their inbox! Sign up via the Feed for Growth website.